SpeedShoppers.com was created to provide the automotive enthusiast a unique and valuable tool to save money on their purchases of speed parts.The founder, Kevin Schappell has experience multiple frustrations when shopping online while building his 1954 Ford F-100.  Many hours were wasted searching websites for the best pricing on all the components that went into the build.  His initial idea was to build a price search engine such as MySimon.com and Shopping.combut dedicated to the automotive aftermarket.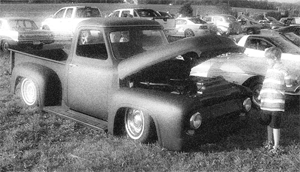 As the idea grew in Kevin's mind, he also thought about one of his favorite websites, slickdeals.net.  Slickdeals was a site which he visited on a daily basis while shopping for the latest technology products.  Many computers, PDA's and everyday household items have been bought from deals posted on the site.  The community there was valauble in making the decision to buy or not.  Product reviews and opinions on stores were all available in the community forum.This site is a merger of the two concepts and Kevin believes that it will be a huge benefit to the average car guy.
The site does not sell anything, but rather offers a platform where members can discuss the latest parts and deals offered by online retailers.  This community effort results in everyone saving money and a "collective intelligence" that ends up benefiting the individual wrenching on his vehicle in his garage.
While the site is starting off slowly and cautiously, plan are to include product reviews, cash-back rewards and other tools to help members save money on their automotive purchases.
If you have any questions related to the site or advertising please use the contact information below.
SpeedShoppers.com
Kevin Schappell
102 Chefield Ct.
Douglassville, PA 19518
610-914-5002
kevin@schappell.com